El formato Jackass, donde Johnny Knoxville y sus amigos se someten al peligro de forma voluntaria, se adapta al cine 3D. En su primera semana en USA ha obtenido un enorme éxito de taquilla: nada menos que 50 millones de dólares, la película con mejor entrada del otoño 2010.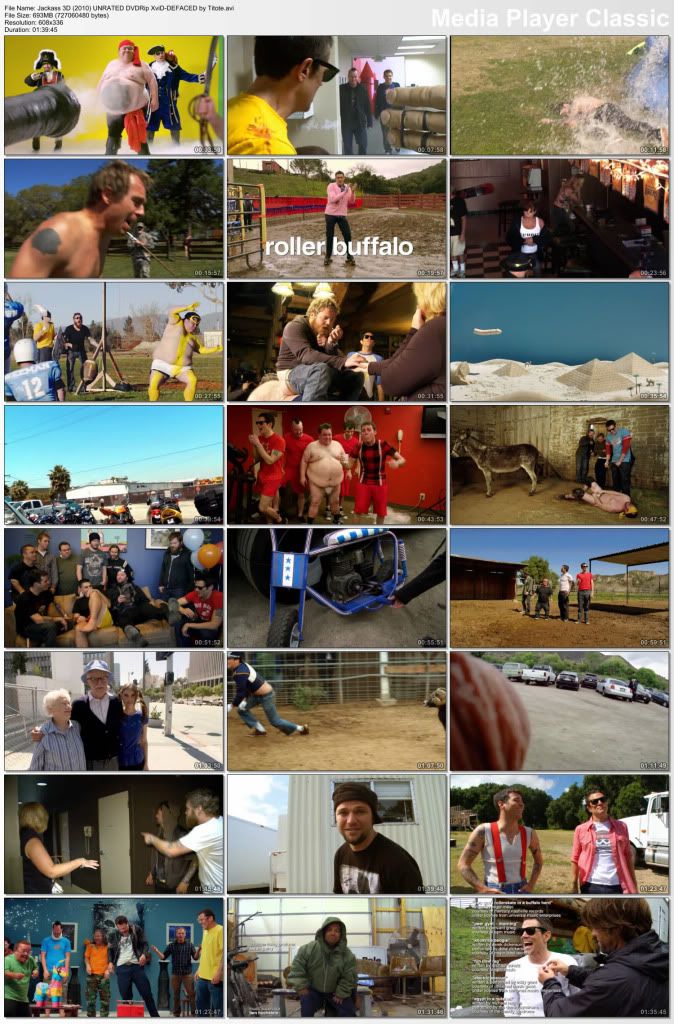 TÍTULO ORIGINAL: Jackass 3 (Jackass 3D)
AÑO: 2010
DURACIÓN: 94 min.
PAÍS:
DIRECTOR: Jeff Tremaine
GUIÓN: Preston Lacy
MÚSICA ----
FOTOGRAFÍA: Dimitry Elyashkevich
REPARTO: Johnny Knoxville, Bam Margera, Steve-O, Jason Acuña, Chris Pontius
PRODUCTORA: MTV Films
GÉNERO: Comedia. Acción. Documental | Secuela. 3-D
Release Name: Jackass.3D.UNRATED.DVDRip.XviD-DEFACED
Size: 693 MB
Genre: Documentary | Comedy | Action
Video: XviD | 608 x 336 | 842Kbps
Audio: English | MP3 | 128 kbps
Subtitulos: Español, dentro del .rar [.srt]

Link a chilecomparte.cl: >>>>AQUI<<<<

Links Megaupload
http://linksave.in/4471525454d6999cedf138

Pass: www.chilecomparte.cl

1 Comment:
female viagra said...

29 de octubre de 2011, 5:48

 

Hi, thank you for sharing this great info. Was just browsing through the net in my office and happened upon your blog. It is really very well written and quit comprehensive in explaining with a very simple language.
Entrada más reciente Entrada antigua Página principal